Schedule Your Inspection Today
Servicing Annapolis, Maryland and Surrounding Areas
Home Inspection in Annapolis, MD
Also Servicing Eastern Shore, MD
For all of your Annapolis, Maryland home inspections, look no further than the incredible services here at HomePro Chesapeake Home Inspections. We have been a locally owned and operated business since 1987, with 30 years of experience, we will provide you with the same great service! We are proud to be the home inspections service that our community trusts for everything from mold and radon testing to air sampling, and we strive to exceed all expectations with our high quality services, years of experience, and comprehensive reports.
Conducting home inspections is incredibly important for anyone looking to buy or sell a house. Professional home inspections will evaluate all the systems of a house from top to bottom. We will cover all guaranties and warranties because catching these problems before you make a final decision can protect you from unexpected and expensive repairs down the road, and ensure the home you purchase will meet all of your needs.
Mold testing and mold inspections must be performed by a professional. Our personnel have been trained to identify mold issues, and the possible size of the problem. We provide air sampling to test such airborne contaminates that may be lurking on the property. Air samples are one of the ways to test if mold spores may be present. The expert mold inspections and mold testing technicians at HomePro Chesapeake Home Inspections know all the nooks and crannies where mold is likely to hide, posing a threat to not only your health, but to the stability of your building's structure. We have great contacts in the area to refer you to the local mold remediation services that are best for you, if desired. HomePro Chesapeake Home Inspections's excellent air sampling services will help you identify any problems that may exist in your building. From radon to mildew and mold, our air sampling services can identify a broad range of health risks and contaminants in your home. Based on our analysis of your air sampling results, you will be able to take any necessary actions to keep your home and its inhabitants safe.
Radon is produced by the natural process of decay found in the rocks and soil around your home. It is a dangerous, radioactive gas that has no scent or smell, and is imperceptible by sight. While there are many problems that radon can lead to, perhaps the most well known is lung cancer caused by extended exposure. Thankfully, our radon inspections and radon testing process are simple. The best way to protect yourself from the dangers of radon is through knowledge, and our radon testing and radon inspections will give you all the information you need to know to keep yourself safe.
Our home inspection services are completed by a licensed, certified, veteran home inspector, and include:
Crawl Space Inspections
Third Party Inspections
Environmental Inspections
Roof Inspections
Foundation Inspections
Electrical Inspections
Plumbing Inspections
Historic Inspections
Condo Inspections
Septic Inspections
Barn Inspections
New Construction Inspections
Pre-drywall Inspections
Well Testing
Consultations
And More!
Give HomePro Chesapeake Home Inspections in Annapolis, MD a call today to learn more about our home inspections and other services. We look forward to working with you soon.
What We Do
We use an electronic reporting system and inspect over 500 potential problem areas. Problems and conditions are discussed in detail with descriptions, pictures, illustrations, typical remedies and general cost estimates. You will be the HomePro of your house by the time we leave!
Before you leave the home inspection you will be better informed and equipped to purchase and live in your new home. At the inspection you will not only be made aware of any defects and potential problems but will learn a lot about the house. You will learn where your shut off valves, filters and other unique service items are.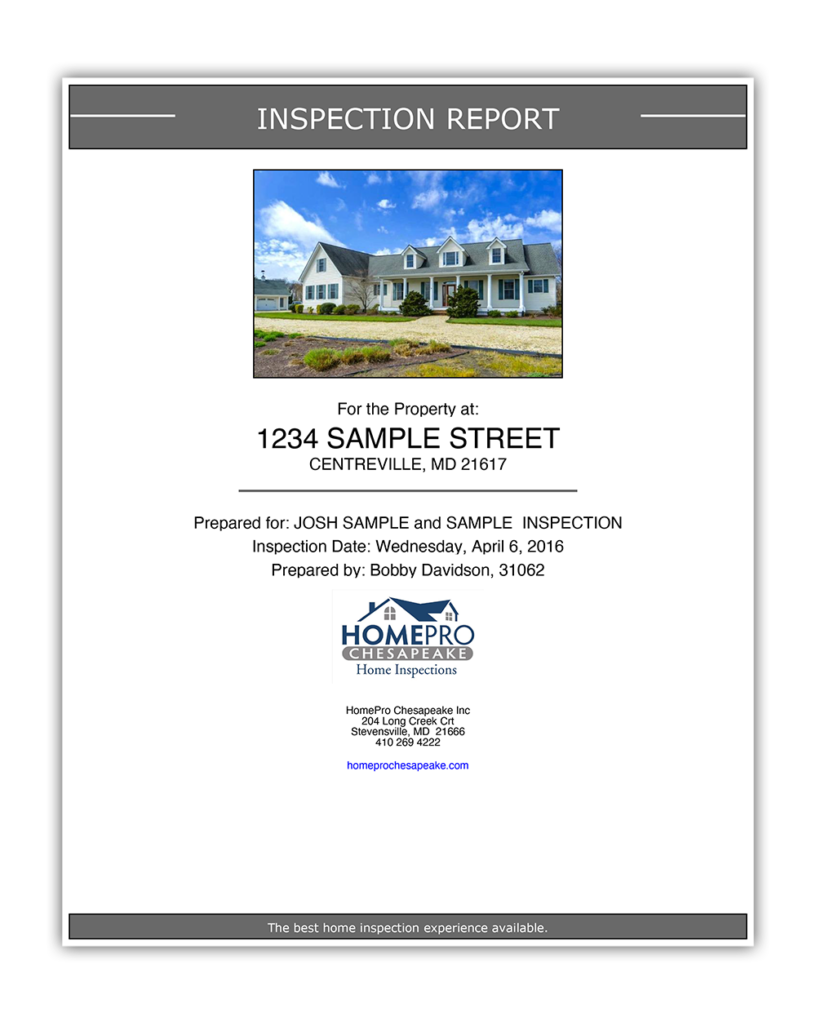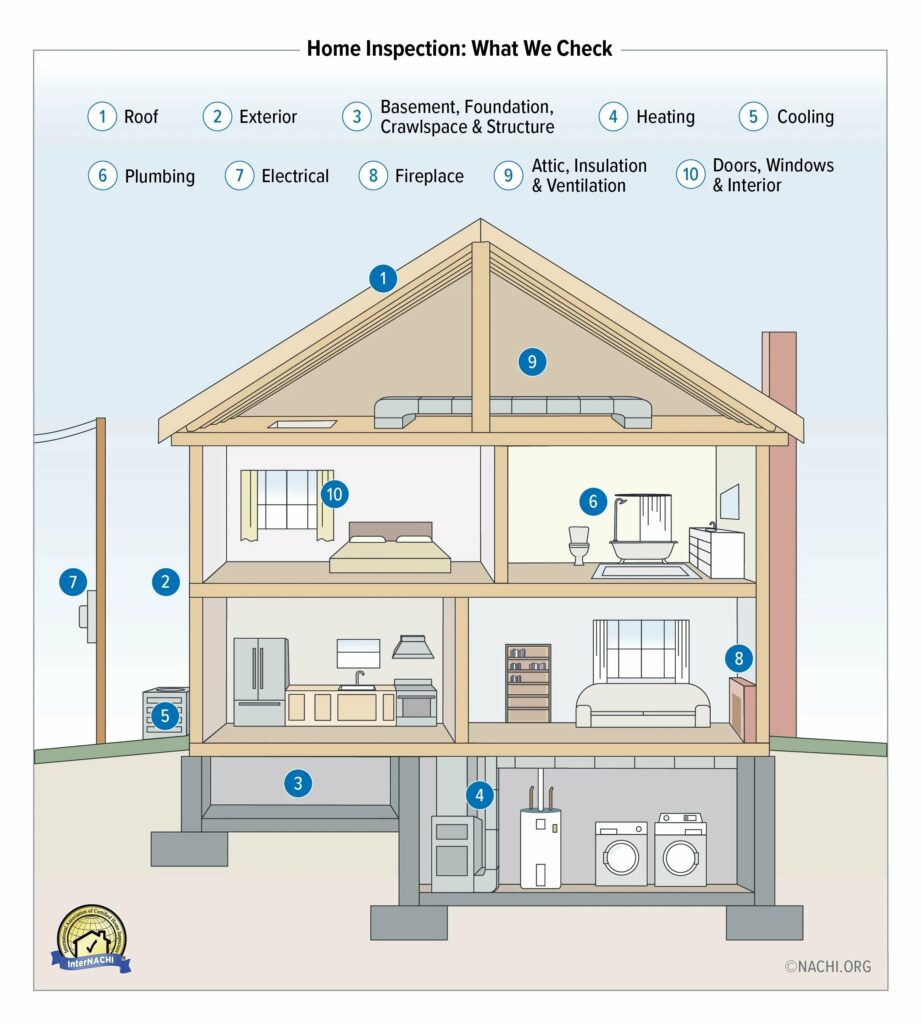 Structure
Foundations and framing are checked for problems due to design errors, neglect, insect damage, water damage, and site conditions.
Electrical
The electric system is screened for capacity and safety. It is evaluated in terms of its current condition and suitability for future use. Upgrades and repairs are recommended where appropriate.
Heating & Air Conditioning
The inspector checks the system for proper function, distribution and safety issues. Recommendations for upgrades or repairs will be given where needed, as well as approximate life expectancy and cost to replace.
Plumbing
The piping and fixtures throughout the house are checked for function and flow. The system is screened for unsanitary conditions, leaks, freeze vulnerability, and problematic materials.
Basement & Crawlspace
Basements and crawlspaces are evaluated for dampness, and the potential for mold or fungal growth. Remediation advice is given as needed.
Kitchen Appliances
All appliances are operated. Deficiencies and life expectancy of appliances are noted. Repairs or renovation are recommended.
Interior and Insulation
Walls floors and ceiling surfaces are scanned for problematic conditions, potentially dangerous or toxic materials, fire hazards and security breaches. Attics are checked for insulation quality and ventilation issues.
Roofing and Exterior
The roof is is walked when appropriate and evaluated for age, problems, and life expectancy. Roof and surface runoff controls are evaluated for proper defense against basement seepage. Siding windows and trim are checked for problems. Porches,walks, and steps are checked. Decks are closely scrutinized.
Trusted Company
As a local company, proudly serving Annapolis, Maryland and surrounding areas, HomePro Chesapeake Home Inspections is committed to providing excellent services and maintaining our reputation in the area.
Trusted Services
When you hire HomePro Chesapeake Home Inspections, you're hiring a full service Home Inspection Service with the experience and expertise required for all your needs.
Our Team
Our team meets the highest standards in experience and skills. We work hard to ensure our staff are duly trained and remain up to date in the latest trends in the industry.