Bobby Davidson featured in Chesapeake Real Producers magazine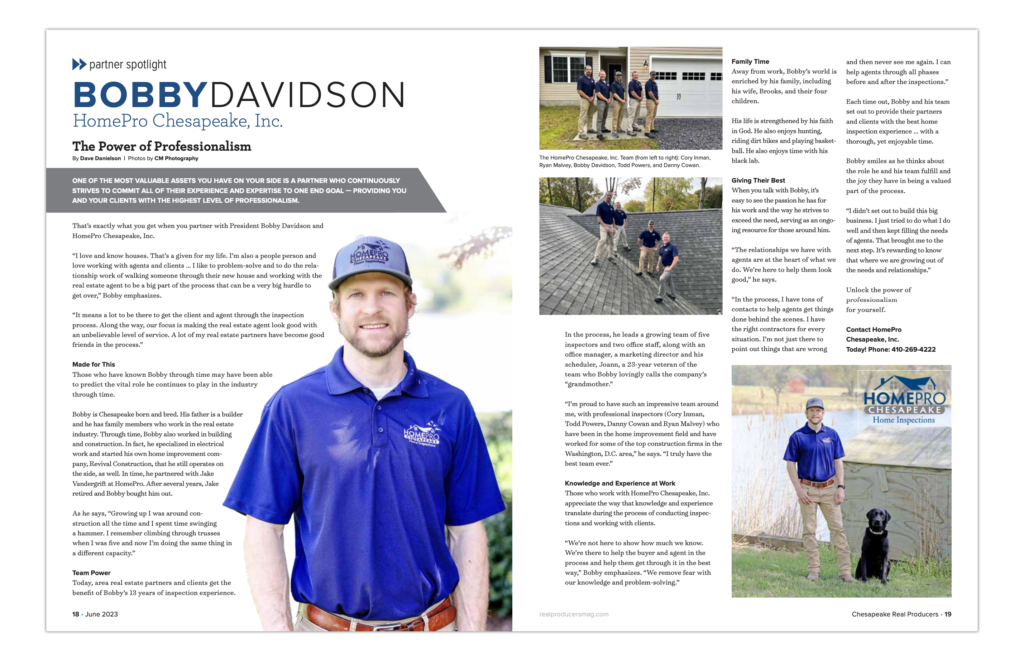 Partner Spotlight: Bobby Davidson HomePro Chesapeake, Inc.
The Power of Professionalism
By Dave Danielson | Photos by CM Photography
ONE OF THE MOST VALUABLE ASSETS YOU HAVE ON YOUR SIDE IS A PARTNER WHO CONTINUOUSLY STRIVES TO COMMIT ALL OF THEIR EXPERIENCE AND EXPERTISE TO ONE END GOAL — PROVIDING YOU AND YOUR CLIENTS WITH THE HIGHEST LEVEL OF PROFESSIONALISM.
That's exactly what you get when you partner with President Bobby Davidson and HomePro Chesapeake, Inc.
"I love and know houses. That's a given for my life. I'm also a people person and love working with agents and clients … I like to problem-solve and to do the rela- tionship work of walking someone through their new house and working with the real estate agent to be a big part of the process that can be a very big hurdle to get over," Bobby emphasizes.
"It means a lot to be there to get the client and agent through the inspection process. Along the way, our focus is making the real estate agent look good with an unbelievable level of service. A lot of my real estate partners have become good friends in the process."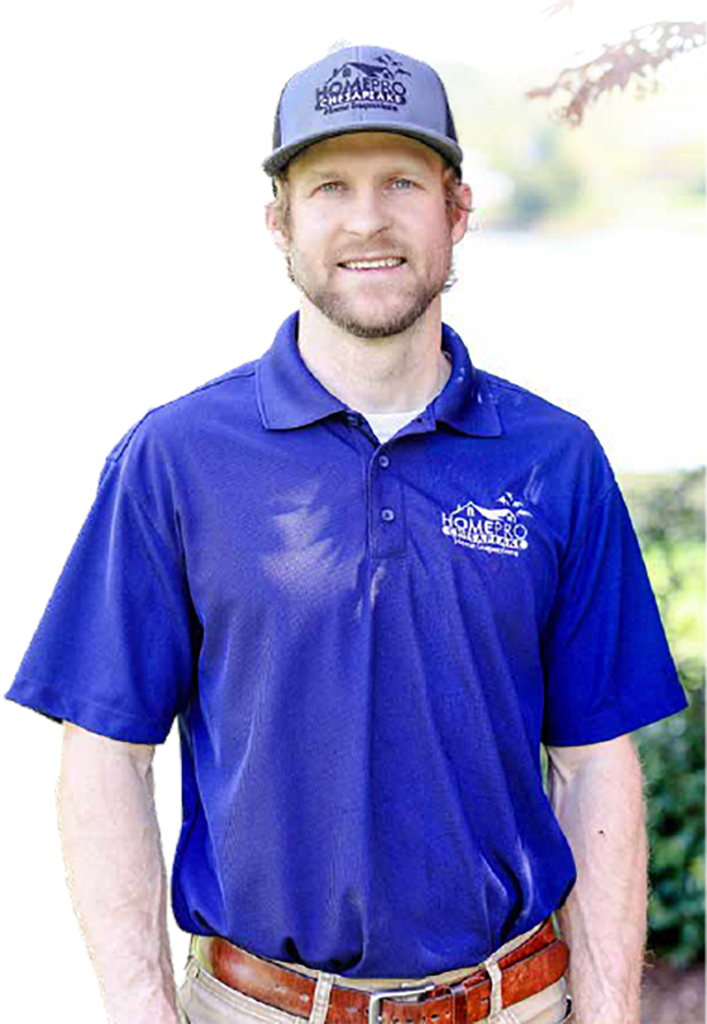 Made for This
Those who have known Bobby through time may have been able to predict the vital role he continues to play in the industry through time.
Bobby is Chesapeake born and bred. His father is a builder and he has family members who work in the real estate industry. Through time, Bobby also worked in building and construction. In fact, he specialized in electrical
work and started his own home improvement com- pany, Revival Construction, that he still operates on the side, as well. In time, he partnered with Jake Vandergrift at HomePro. After several years, Jake retired and Bobby bought him out.
As he says, "Growing up I was around con- struction all the time and I spent time swinging
a hammer. I remember climbing through trusses when I was five and now I'm doing the same thing in a different capacity."
Team Power
Today, area real estate partners and clients get the benefit of Bobby's 13 years of inspection experience.
In the process, he leads a growing team of five inspectors and two office staff, along with an office manager, a marketing director and his scheduler, Joann, a 23-year veteran of the team who Bobby lovingly calls the company's "grandmother."
"I'm proud to have such an impressive team around me, with professional inspectors (Cory Inman,
Todd Powers, Danny Cowan and Ryan Malvey) who have been in the home improvement field and have worked for some of the top construction firms in the Washington, D.C. area," he says. "I truly have the best team ever."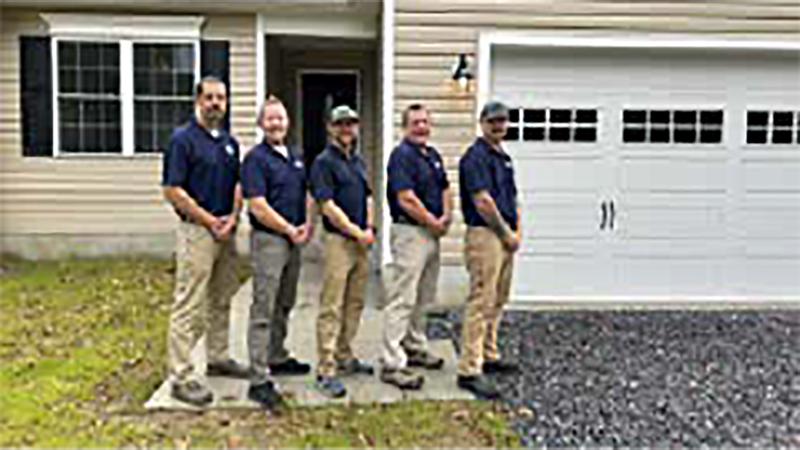 Knowledge and Experience at Work
Those who work with HomePro Chesapeake, Inc. appreciate the way that knowledge and experience translate during the process of conducting inspec- tions and working with clients.
"We're not here to show how much we know. We're there to help the buyer and agent in the process and help them get through it in the best way," Bobby emphasizes. "We remove fear with our knowledge and problem-solving."
Family Time
Away from work, Bobby's world is enriched by his family, including his wife, Brooks, and their four children.
His life is strengthened by his faith in God. He also enjoys hunting, riding dirt bikes and playing basket- ball. He also enjoys time with his black lab.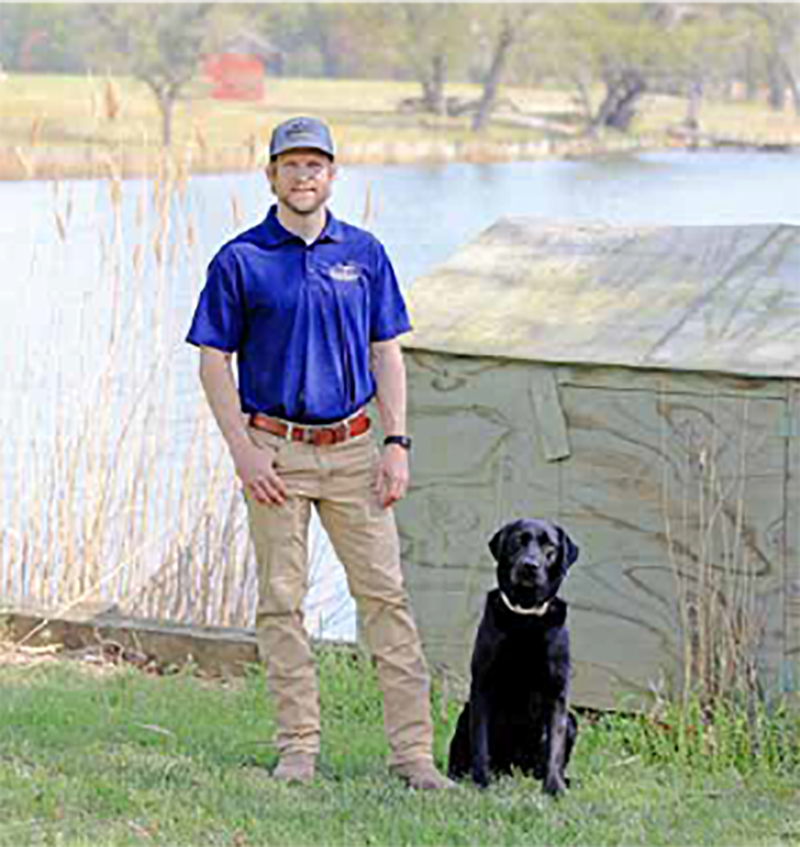 Giving Their Best
When you talk with Bobby, it's easy to see the passion he has for his work and the way he strives to exceed the need, serving as an ongo- ing resource for those around him.
"The relationships we have with agents are at the heart of what we do. We're here to help them look good," he says.
"In the process, I have tons of contacts to help agents get things done behind the scenes. I have the right contractors for every situation. I'm not just there to point out things that are wrong and then never see me again. I can help agents through all phases before and after the inspections."
Each time out, Bobby and his team set out to provide their partners and clients with the best home inspection experience … with a thorough, yet enjoyable time.
Bobby smiles as he thinks about the role he and his team fulfill and the joy they have in being a valued part of the process.
"I didn't set out to build this big business. I just tried to do what I do well and then kept filling the needs of agents. That brought me to the next step. It's rewarding to know that where we are growing out of the needs and relationships."
Unlock the power of professionalism for yourself.
Contact Home Pro Chesapeake, Inc. Today!
Phone: 410-269-4222
This article was originally published in: Chesapeake Real Producers magazine