Home Maintenance for New Home Buyers – Keeping a New Home in Tip-Top Shape!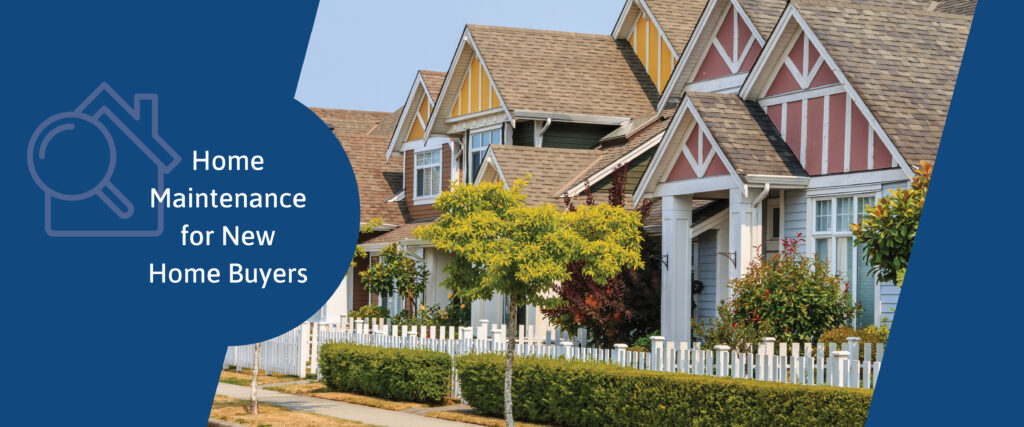 For many new buyers, their home is their most significant financial asset. Good to know then that regular and timely maintenance helps ensure that a home's value increases over time. It's pretty simple! Being diligent about maintaining a home almost certainly sees an increased return on investment.
Individuals new to home ownership may find the upkeep of their new home overwhelming. But as with any big project, break down the components into manageable increments. Consider tapping into the expertise of the home inspection professional that originally facilitated the home's purchase.
Most reputable home inspectors will serve as a resource regarding the home's condition even after closing. Your home inspector is also an excellent source for recommendations on suppliers that you can use to help maintain your home.
The ABCs of Home Maintenance
Appraise
Check the Doors
Switch out the old locks on all exterior doors. Or at least have the existing ones rekeyed.
Check all exterior doors for drafts. Replace old weather-stripping or add new to keep drafts out.
80% of heat loss occurs because of cracks in a home (i.e. spaces around doors). So, seal for energy savings.
Examine the Windows
Presuming leakage was not flagged as an issue during the initial home inspection, check for signs of water damage annually.
Check caulk at the start of fall as it degrades over time, so reseal the spaces around windows as needed. The best time is at the end of summer while the weather is still cooperating.
Monitor for Moisture
Commit to regular inspections to detect water damage. This will help avoid the problematic mold and rot that it causes. Potentially problematic areas that should be checked are listed here:
Observe Crawl Space/Basement & Attic
Get into the crawl space and use a flashlight for an up-close look each fall before the onset of wet weather.
Examine the basement.
Inspect the attic as well.
In all these areas, dampness and/or changes in color indicate a problem. If you see water and/or stains, call for professional support.
Your home inspector can help determine what's causing the problem and recommend the next steps.
Inspect Wooden decks
Decks need to be sealed and stained to prevent water damage which causes rot.
Before summer, perform a splash test. The water will bead if the seal is still functional.
Plan to reseal every two to three years.
Examine gutters or roof valleys
Water can enter the home-via the crawl space, foundation or even the roof because of clogs.
Remove any debris from gutters in early fall. Flush with a hose to dislodge hidden clogs.
Remove any debris on the roof by hand. Examine the flashing for rust or holes.
The height-averse should hire a professional.
Beautify
Keeping a home looking its best and up to date is equally as important as maintaining its systems. Listed are several cosmetic fixes that help a household or improve its value.
Keep Paint Clean and Current
Fresh paint for the interior or the exterior can make a dramatic difference in the appearance of a home.
Small improvements, such as painting the front door, can offer significant transformation.
Update Bathrooms
Caulking tubs and showers prevent leaking and makes the bathroom look well-maintained.
Small changes such as new faucets, mirrors, and lighting have a big impact for nominal expenditure.
In the case of a full renovation, quality fixtures and fittings are the logical choices.
Upgrade flooring
Replace worn or dirty carpeting.
Conversely, shampoo carpets that are in good shape at the end of a busy summer of the family running in and out.
For the best return, consider installing hardwood or vinyl plank flooring to really update a space.
Kitchen Upgrade/Reno
If the kitchen needs a simple refresh, paint the walls, refinish cabinets, and replace cabinet hardware for a fresh take.
If remodeling, keep your eye on the prize and invest in traditional materials. Wooden cabinets, stainless appliances, wood or stone floors and countertops are materials with mass appeal.
Clean Often and Deeply
Keeping your home free of clutter is the easiest way to make it seem organized and inviting.
Purge unused items frequently. Sell or donate them.
Develop a cleaning schedule which allows all areas to be maintained.
Consider hiring a service for tasks that are labor-intensive. i.e. window cleaning.
Check
Test Safety Devices:
A home's safety devices save lives in an emergency.
Regularly examine and test to ensure the home's devices are

operative
not expired
installed in compliance with applicable local ordinances
Make it a priority to check:
Smoke detectors
Test the devices monthly to make sure they are working.
Vacuum the exterior monthly.
Change the batteries every six months if they aren't hard-wired.
Carbon monoxide detectors
This deadly, colorless and odorless gas can't be detected unaided. Install and then regularly test detection devices.
Check local codes to ensure compliance as to the recommended number of devices.
At minimum, install one on every floor.
Fire extinguishers
Have at least one on hand.
Fire extinguishers have an expiration date. Check that the unit is current. If not replace it as soon as possible.
Designate
Hire professionals for jobs that require specific or licensed expertise. These tasks include:
Schedule a Home Energy Audit
A Home Energy audit report will provide important information regarding the home's Energy Star rating.
Upgrade or repair any energy usage issues flagged in the report.
Your home inspector or local utility company will likely be a good source for auditing resources.
Service the Furnace/HVAC
Hire HVAC professionals to clean and service furnace and cooling equipment annually to extend the life of the units.
Check or replace the furnace's filter within thirty days of move-in.
Replace regularly as outlined in the owner's manual or on the manufacturer's website.
Manage Fire Hazards:
Maintain Wood-burning Fireplaces
Creosote is a dangerous and highly flammable byproduct of wood burning. Any build-up in fireplaces and chimneys is a serious fire hazard.
Creosote deposits also elevate the risk of carbon monoxide poisoning. Removal is a job for trained professionals in the use of specialized equipment. Schedule every fall before the fireplace is in regular use.
Clean the Dryer Vent
Lint can clog up your dryer and prevent it from working efficiently. Even worse, the combination of heat and accumulated dryer lint and dust is a major fire hazard. To minimize this risk, the dryer vent outside of the home should be cleaned annually.
Clean the lint trap after each load.
It can't be stressed enough. Ongoing upkeep is the best way to prevent major issues with any home. It's also an excellent way to avoid any unbudgeted expenses of potential problems. And no small bonus…the home will safer and more comfortable and run more efficiently. And as a result, you'll love where you live!
How Can We Help
HomePro Chesapeake Home Inspections in Annapolis, MD, is owned and operated by Bobby Davidson, a licensed, certified and veteran home inspector. Chesapeake provides home inspection services for residential and commercial properties. We service Annapolis County and the Eastern Shore, including Caroline County, Kent County, Queen's County, Talbot Counting, and Kent Island.
HomePro Chesapeake Home Inspections has a solid reputation for terrific service and valued transparency. We have thirty-plus years of experience providing comprehensive inspections for everything from mold and radon testing to air sampling. Among many others, our services include elements such as crawl space inspections and environmental inspections. We are uniquely positioned to help new homeowners navigate the entire process of buying and maintaining a home from start to finish.
---
HomePro Chesapeake Home Inspections
Residential Inspections for Annapolis County and the Eastern Shore, including Caroline County, Kent County, Queen's County and Talbot County, plus Kent Island.
Contact Bobby Davidson at HomePro Chesapeake Home Inspection for questions about home maintenance.
See our full list of property inspections services.